Biography Suitable for Concert Programs
(212 words, last updated 16 August 2022)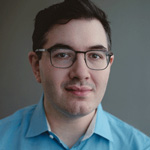 Keyboardist and conductor Jeffrey Grossman specializes in vital, engaging performances of music of the past, through processes that are intensely collaborative and historically informed. As the artistic director of the acclaimed baroque ensemble the Sebastians, in recent seasons Jeffrey has directed concerts including Bach's St. John and St. Matthew Passions and Handel's Messiah from the organ and harpsichord, in collaboration with TENET Vocal Artists, and he is a frequent performer with TENET, the Saint Paul Chamber Orchestra, and numerous other ensembles across the country. Recent seasons include his conducting operas of Haydn and Handel with Juilliard Opera, leading Monteverdi's Vespers of 1610 with the Green Mountain Project in New York and Venice, and conducting a workshop of a new Vivaldi pastiche opera for the Metropolitan Opera. As musical director for the 2019 Boston Early Music Festival Young Artists Training Program, he conducted Handel's Orlando from the harpsichord. For thirteen seasons, he toured portions of the rural United States with artists of the Piatigorsky Foundation, performing outreach concerts to underserved communities. Jeffrey can be heard on the Avie, Gothic, Naxos, Albany, Soundspells, Métier, and MSR Classics record labels. A native of Detroit, Michigan, he holds degrees from Harvard College, the Juilliard School, and Carnegie Mellon University. Jeffrey teaches performance practice at Yale University.
jeffreygrossman.com
---
---
Full Biography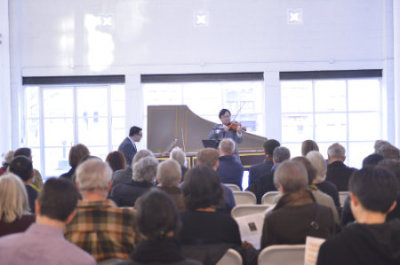 Jeffrey Grossman (email) is a freelance harpsichordist, continuo organist, conductor, and coach based in New York City. He specializes in vital, engaging performances of music of the past, through processes that are intensely collaborative and historically informed. Grossman's extensive instrumental repertoire includes music from six centuries for the piano, fortepiano, harpsichord, and organ, and his work as a conductor encompasses everything from Josquin des Prez to Marvin Hamlisch. Grossman holds a Bachelor of Arts in Music from Harvard College (cum laude, Phi Beta Kappa); a Masters of Music in conducting from Carnegie Mellon University, where he studied with Grammy-award winning conductor Robert Page; and a Masters of Music in historical performance from The Juilliard School, where he studied with harpsichordist Kenneth Weiss.
A native of Detroit, Michigan, Grossman is the artistic director of the acclaimed baroque ensemble the Sebastians. He is currently on the faculty of Yale University, where he is a Lecturer in Early Music, teaching performance practice and coaching students in the graduate voice program in Early Music, Oratorio, and Chamber Ensemble.
As a harpsichordist or conductor, he has performed with TENET Vocal Artists, the Saint Paul Chamber Orchestra, Quodlibet Ensemble, the Bach Players of Holy Trinity, the Sebastians, La Orquesta Sinfónica de Puerto Rico, PHOENIXtail, Fire and Folly, Chamber Music Northwest, Callisto Ascending, Juilliard Baroque, Juilliard415, New York Baroque Incorporated, Trinity Baroque Orchestra, Daniel Hope, the Harvard-Radcliffe Collegium Musicum, the Harvard Glee Club, ARTEK, Chatham Baroque, the Mendelssohn Choir of Pittsburgh, the Berkshire Choral Festival, the Springfield Symphony, Seraphic Fire, Spire Chamber Ensemble, the Weckmann Project, Musica Nuova, and many other ensembles.
As a pianist, he has been affiliated since 2005 with the Piatigorsky Foundation, performing more than 180 outreach concerts in 15 states to help bring live classical music to underserved communities across the United States. He was a faculty accompanist for the Berkshire Choral Festival, working with conductors Dale Warland, Philip Brunelle, Simon Carrington, Jane Glover, Heinz Ferlesch, Grant Gershon, Julian Wachner, Robert Page, Kent Tritle, Craig Hella Johnson, and Murry Sidlin. Grossman previously co-founded and served as artistic director of the Cambridge Early Music Project, a Boston-based organization that presented numerous concerts, highlights of which include include Schütz's Musikalische Exequien and Bach's Jesu, meine Freude and Magnificat.
His teachers include Robert Page and Jameson Marvin in conducting; Kenneth Weiss and Don O. Franklin in harpsichord; Mutsumi Moteki in coaching; Louis Nagel in piano; and Riccardo Schulz in recording technology. He has performed in masterclasses of Harry Bicket, William Christie, Nicholas McGegan, Emma Kirkby, Jakob Lindberg, Fabio Biondi, Rachel Podger, Christopher Hogwood, Lisa Goode Crawford, Peter Sykes, Jacques Ogg, Edward Parmentier, Webb Wiggins, Robert Mealy, Barbara Weiss (as harpsichordist); Thomas Hampson, Wolfram Rieger, Helen Donath, Thomas Enman, Golda Vainberg-Tatz, Lynn Rice-See (as pianist); and Kirk Trevor, Johannes Schlaefli, Mariusz Smolij, Rodney Eichenberger, Mathis Dulack, Kate Tamarkin, Peter Jaffe, Donald Portnoy, Paul Vermel (as conductor).
Grossman is also active as a recording artist. His first solo piano CD, Cosmic Light (music for piano by Keith Barnard), was released on the Metier Arts label, and Carson Cooman's Nantucket Dreaming, on which he performs solo and in a trio, was released on Naxos. Previously, he released several recordings devoted to contemporary American composers, including New Dawn, with soprano Amanda Forsythe, of Carson Cooman's vocal works and piano solos (on Albany Records); and the chamber music of Leland Smith with vioinist and violist Sarah Darling (on the Naxos label). As a harpsichordist, he appears on Songs of Lightness and Angels, where he performs songs by Arnold Rosner for harpsichord and soprano with Elizabeth Farnum; and three CDs with his ensemble, the Sebastians. The Welcome News: Choral Music of Carson Cooman is his first commercial release as a conductor.
In addition to his work as a performing and recording artist, Grossman is active as a musical engraver using the SCORE music publishing system, which permits an unsurpassed level of professionalism and polish, in addition to the more commonly-used Sibelius, Finale, and Dorico notation programs. Works he has engraved have been performed by organizations from the Metropolian Opera and Boston and Pittsburgh Symphonies to faculty-conducted groups at Harvard University and the orchestra of the Longy International Baroque Music Festival. Grossman also works as a classical recording editor and mastering artist. His work has been released on labels including Naxos, Gothic Records, Zimbel Records, and Albany Records.